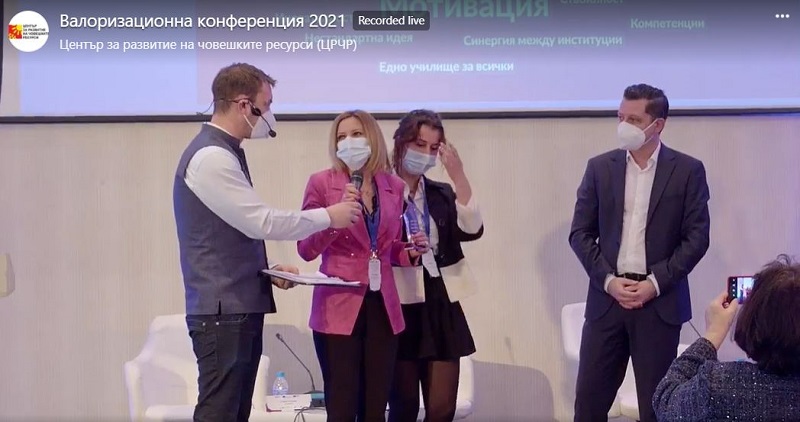 On December 17, 2021, the Center for Human Resources Development, which acts as the National Erasmus + Agency, held a Valorization Conference to award projects with a quality mark. The event was opened with an official welcome speech by the EU Commissioner Maria Gabriel, after which the program continued with a panel discussion on the topic of "Recovery from the crisis in the context of Covid-19 and a model of encouragement for contribution to the European educational environment." Official participants in the discussion panel were the Minister of Education and Science in Bulgaria Nikolay Denkov and Deputy Minister of Youth and Sports. Participants in the conference were invited to share the challenges they face and the innovative ideas they are working on. NARHU's representative stressed the need for investing in the prevention of difficulties in child development and the inclusion of all children in school. The main part of the conference was dedicated to the awarding of Erasmus + projects for their quality performance and achieved results.
The AVCA project – Violence in Childhood and Adolescence: Assessment, Prevention and Overcoming – Positive Psychology Approadch, was among the winners awarded with a quality mark.
The other running projects of NARHU were also promoted through flyers and oral presentations.
The event was attended by over 100 participants – representatives of educational institutions, NGOs, youth centers, government institutions and policy makers.
A full recording of the event is available via link: https://www.facebook.com/watch/live/?ref=watch_permalink&v=1324430834666960